Measurement
For certain body parts always use the following special measure. Use this metre for measuring - ( A,B,C,E,F,G,H,J ).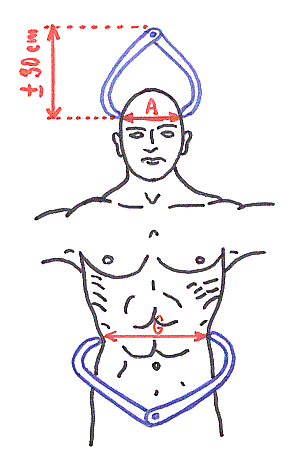 You can simply make this metre from any steel plate, a cardboard paper or a plast like this. See the picture - make both parts and connect them by a rivet so that both parts can move.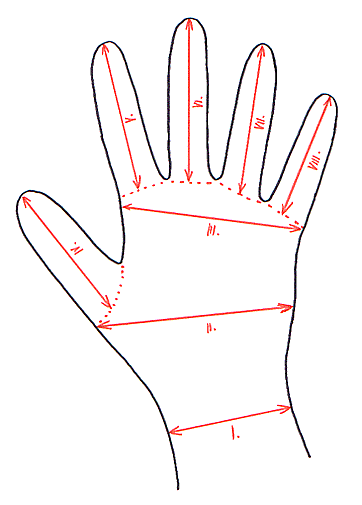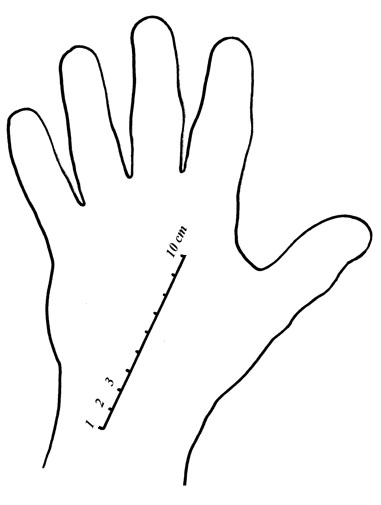 Put your bare-hand on A4 size paper. Take the pen and make the shape.
Draw ruler 1-10 centimeters for checking good scale after printing. Then use the scanner and send by email.
Or take measurements I,II,III,IV,V,VI,VII,VIII from paper and send by email.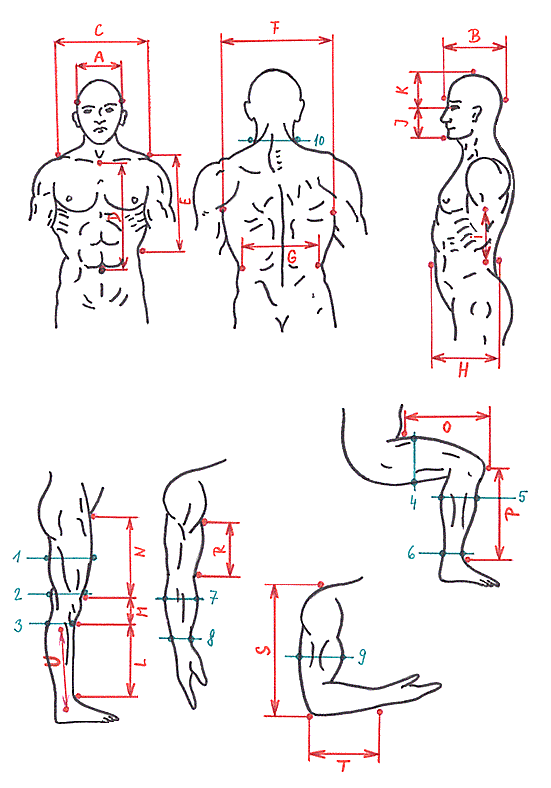 BASIC INSTRUCTIONS FOR THE MEASURING :
We need two type of your dimensions.
Take measurements against skin and then with the padding or clothing you plan to wear under the armor.
Muscle fully flexed.
Inhale completely - hold it - then measure.
| | |
| --- | --- |
| red | lengths |
| blue | perimeters |
!!! WE ALWAYS NEED !!!
TOTAL HEIGHT AND WEIGHT OF YOUR BODY ( in centimeters and in kilograms )
| | |
| --- | --- |
| Armours | ALL OR WHERE NECESSARY + PERIMETER HEAD , BREAST AND WAIST |
| Arms | R , S , T , 7 , 8 , 9 |
| Gauntlets | SHAPE OF YOUR HAND IN REAL DIMENSION OR I , II , III , IV , V , VI , VII , VIII |
| Legs | L , M , N , O , P , U , 1 , 2 , 3 , 4 , 5 , 6 |
| Helmets | A , B , J , + PERIMETER HEAD |
| Gorgets | 10 , + PERIMETER BREAST |
| Breast & back plates | C , D , E , F , G , H , I , 10 , + PERIMETER BREAST AND WAIST |